3 Easy Ways to Stay Photo Ready
This post is sponsored by Amazing Lash Studio, but as always all opinions are my own.
Hey mama, are you ready for your close up?
So many of us find reasons to snap happy pics of our kids but fail to put ourselves in the pictures. I for one have come up with all sorts of reasons like:
I'm not the size I want to be
My hair is a mess
My color needs retouching
I didn't get a chance to put makeup on this morning
I look tired
I haven't showered
But the truth is, photos are one of the sweetest ways to record moments that are precious but easily forgotten. And these are the images our kids will look back on in the future--we want them to remember that mom was right there with them! ♡
If you're not quite feeling "photo ready", I've put together a few tips that have helped me feel more comfortable over the years:
1. Eyelash Extensions
Can I let you in on a little secret? I've been wearing eyelash extensions on and off for a year now. They are like a cosmetic cheat code to my already low maintenance makeup routine. Whether I've just woken up, worked out, taken a swim with the kids or survived a stomach virus, I'm unfailingly delighted by the way they make up eyes pop, not to mention how quickly I can get ready. 🙌
The extensions are professionally applied, one on each natural lash, with a semi-permanent glue meant to hold them in place for several weeks. Your first appointment will be your longest, taking at least 90 minutes and possibly upward of two hours. You should arrive at the salon with your eyes entirely clean of makeup and I usually use the time to catch up on must needed sleep or listen to a podcast. To keep your extensions looking full and fresh, touch-ups should be scheduled every two to four weeks.
Where should you get them done? As a general rule, I recommend saving the Groupon discounts for a pilates class, not services like eyelash extensions. If you follow me on Instagram, you probably saw my recent visit to Amazing Lash Studio here in Atlanta. The before and after pictures are unreal! (check them out below) I'm so happy with my entire experience with them and highly recommend checking them out. Their prices are the best I've seen in Atlanta and they really do a great job of giving their clients a red-carpet, professional experience.
And if you're local, use code: Sarah20 for $20 off your first intro full set at any 6 Amazing Lash Studio locations in Atlanta!
2. Stay Luminous
If you're tired or stressed out from this parent life, look for a moisturizer or foundation that will give you an instant glow. My most used foundations provide a sheer, buildable coverage that give my skin a natural, glowing complexion. I also really love lotions or oils with a little shimmer to make my skin look like it's been sun-kissed. 🌞
3. Pearly Whites
Nothing like a bright and sparkling smile to keep you feeling confident and photo-ready. There are so many options available to keep your teeth white, but my personal favorite is good ol' fashioned baking soda! It's a safe way to gently polish stains from our teeth, which make them appear whiter. Baking soda can also help you to maintain good oral health and prevent trips to the dentist--its a win win!
What are some of your easy beauty secrets? Have you ever tried lash extensions yet??
XO,
Sarah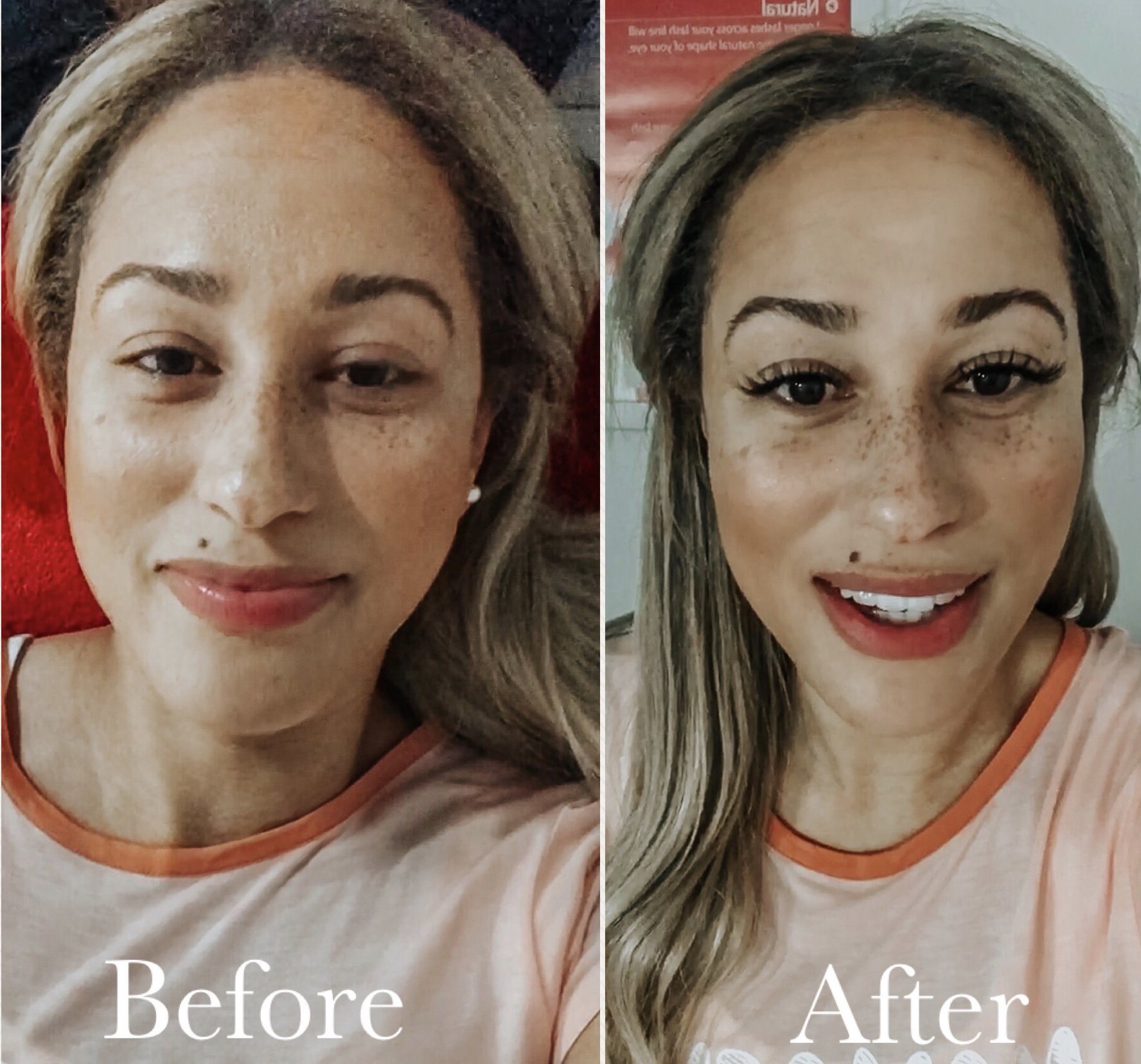 <<<< I napped while they did this. 🙌
(Also, I chose their 'Gorgeous' lash option)